2018 Awards Awards
YWE scooped two awards at the 2018 Awards Awards even held at The Waldorf Hilton, London on Friday 27 April.


Membership Excellence Awards 2017 - Best Social Media Campaign
The IET scooped another award for the #9percentisnotenough campaign at the Membership Excellence Awards 2017 held at County Hall, London on Wednesday 17 May.
The MemCom Conference and Awards is one of the leading dates in the professional membership, association and charity calendars. Established in 2000, the conference brings together senior leaders from the membership marketing and communications sector to learn, exchange ideas and celebrate achievements.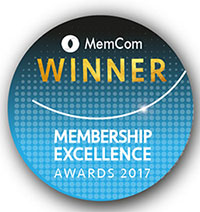 2017 Awards Awards - Best Awards Social Media Campaign
The winners of the inaugural 2017 Awards Awards were announced at the lunchtime ceremony at Plaisterers' Hall on Friday 12 May and The Young Woman Engineer of the Year Awards took the top spot for Best Awards Social Media Campaign.
Association Excellence Award - Best Use of Social Media
The IET has been recognised for its #9percentisnotenough campaign at the Association Excellence Awards which took place on Friday 31 March 2017. The campaign was up for Best Use of Social Media and was awarded a Mark of Excellence.
Commenting on the campaign, the judging panel said it was 'simple and engaging', 'a good use of social media to bring awareness' and 'clear target audience and measure of success through event attendance, as well as through increasing engagement and followers of the target audience, all measured and demonstrated in the campaign'.